Fall Foliage Archives:
The fall foliage season has begun in earnest in Colorado's Rocky Mountains. Today I explored Lost Canyon Road where there was plenty of colorful aspen leaves.
An outing in Chalk Creek Canyon in Chaffee County, Colorado provided me with stunning aspen groves ablaze in gold.
View images: Fall Foliage in Chaffee County, CO
I lucked out when I spotted this beautiful autumn color scene along the Arkansas River in Colorado. Over two evenings, I collected my best fall foliage photos for the latest update.
View entire photo gallery: Two Days of Autumn Foliage
10 photos and 2 videos of autumn leaves and fall colors in the San Isabel National Forest in Colorado.
View all photos: Autumn Leaves
A combination of recent snowfall and vibrant fall colors along Highway 82 in the Twin Lakes and Independence Pass region of Colorado.
View all photos: Fire and Ice


The St. Elmo Ghost Town was once a bustling mining town in the early 20th century. The fall scenery was beautiful during our Saturday visit.

View the entire photo gallery here: St. Elmo Autumn Foliage Viewing
Winter and autumn duked it out this morning in the Sawatch Range of Colorado. A layer of pretty white snow covered the ground which made the fall foliage viewing stand out. As it became warmer, fall won out but it was hardly a convincing victory.
View all photos: Two Days of Fall Scenery
Steve Garufi explored the aspen groves in South Cottonwood Canyon in Chaffee County, Colorado. One spot was ablaze with fall colors.
View all photos: Aspens in Fall
Welcome to Autumn Pictures!

Autumn Pictures is a website where fall foliage seekers, autumn photographers and others can enjoy the autumn season all year around. If you have always had a soft spot in your heart for fall scenery, you've come to the right place! :)
Discuss fall foliage adventures, share the peak times for viewing colorful autumn leaves in your area, submit your own autumn photographs to this web site, or simply surf and get lost in our beautiful autumn pictures. Please visit the Autumn Colors Forum and to comment.
Recommended Books
Videos
Autumn Colors
Fall Aspen Leaves
Colorado Rocky Mountains
Beautiful Aspen Grove
Fall Bicycle Tour

A bicycle ride in Chaffee County turned into a fall colors tour. Steve Garufi snapped images of mountain scenes with signs of fall all around. Enjoy his two videos as well ... View Photos
---
Rocky Mountain Fall Foliage

Plenty of fall foliage images from an outing in St. Elmo, Colorado, a ghost town in Chaffee County. The fall colors season is in full swing ... View Photos
---
Fall Driving Tour

Fall colors driving tours are so popular throughout September and October. Here's one autumn leaves drive in the Rocky Mountains of Colorado. ... View Photos
---
Autumn In Wisconsin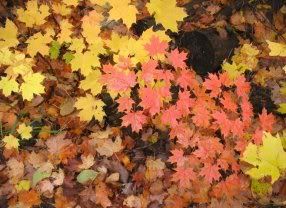 Photos of fall foliage in north central Wisconsin near Timms Hill, the state's high point. My visit came at the perfect time, as groves were filled with yellow, orange and red leaves ... View Photos
---
Aspen, Colorado

Elana and I wandered around Aspen, Colorado and to enjoy the fall foliage. We also got pretty shots at the Maroon Bells and Highway 82 near Independence Pass ... View Photos
---
Pretty Autumn Road

An image a peaceful road outside of St. Elmo, Colorado has gotten a lot of positive feedback among friends. Does it conjure up warm and fuzzy feelings about the fall season? View Photo
---
Morning Fall Foliage

Enjoy this morning's fall foliage in Colorado. The ground foliage, an image by a creek and bright aspen groves caught my eye ... View Photos
---
Sunny September Day

Three dazzling images from a midday drive in Colorado's mountains. You can beat the scenery during the fall season between Buena Vista and Taylor Park Reservoir ... View Photos
---
Autumn Is The Rockies

The fall foliage is coming along nicely as seen from these two outing on Chaffee County Road 306 in the Sawatch Range of Colorado ... View Photos
---
Monarch Pass Region

The fall colors are really showing near the Continental Divide on the east side of Monarch Pass. Poncha Springs is the nearest major town in this area ... View Photos
---
Golden & Yellow Aspens


Beautiful shimmering aspens in shades of yellow and gold were the highlight of this autumn photography excursion. The site was Cottonwood Lake, a high elevation lake in South Cottonwood Canyon ... View Photos
---
Fall Foliage In Wilkerson Pass

Wilkerson Pass offers beautiful views of Colorado's Rocky Mountains, but for about one month of the year, its large aspen groves light up in beautiful fall colors ... View Pictures
---
Colorado's Aspens

This picture collection displays bright and colorful aspens taken at their respective peak season throughout central Colorado ... View Pictures
---
Vicksburg & Winfield

Vicksburg and Winfield were once bustling mining towns in the late 1800's. These "ghost towns" have been largely abandoned and I captured some great fall foliage shots ... View Pictures